Tres Leches Cake Push Up Style!
Short on time and want a quick step to creating a Tres Leches Cake? We've got you covered. We originally wrote a post on Tres Leches cake in our cupcake blog on Push Pop Containers in 2011 and it seemed to go over really well with our readers.
We thought it would be a great idea to re-post here on Push Pop Ideas for you all as well.
Here we show a very simple way to create a not so authentic version of the Tres Leches cake but the results are fantastic. We will include a link for the entire recipe of the standard Tres Leches cake that comes from  El Salvadore. The original recipe can be a bit time consuming, so the recipe and make up procedure here will save you quite a bit of time.
What you will need to create the simple Tres Leches Push-up Pop Cake:
1 box vanilla cake mix
Whip cream
Liquid flavored coffee creamer
Fresh fruit (optional)
Chocolate and mint leaf to garnish (optional)
Push Pop Containers
Push Pop Container Stand
Pastry Bag and Tip
Jelly roll pan
Prepare cake batter and pour into a jelly roll pan. Bake at 350 f. for approximately 18 minutes or until toothpick comes out clean.
Let cake cool. Once your cake has cooled, use the top of a push pop container to punch out cake circles as shown here:
Next, using a wooden skewer, punch holes in each cake circle. You can do this while all the cake circles are in the pan.
This picture shows how it should look. You will want many holes in each cake circle.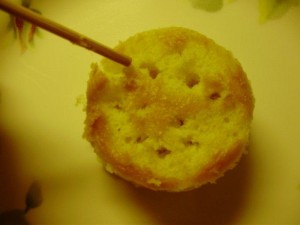 Have your push pop containers pre-assembled and begin the layering of the cake, creamer or three milks recipe, whip cream and fruit. Start by pouring a bit of creamer into the base of the push pop container.
NOTE: since the original posting of our Tres Leches Cake, we have redesigned our push pop containers so that you do not have to have the stick inserted into the push up plunger base. Simply put the push up plunger into the push up cake tube and start filling. You can attach the stick at a later time. This will allow you to do high production with out the need of a holding station. : ) Reference to purchase Giarraffa Co Push Pop Containers with the twist in stick and base are at the bottom of this post.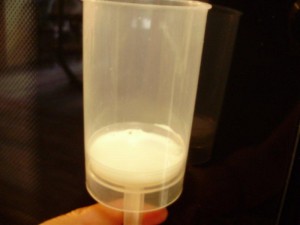 Next, place one cake circle on top of the creamer or three milks. and then pour more creamer or three milks over the cake circle to saturate. The milks should soak in quickly into the cake holes.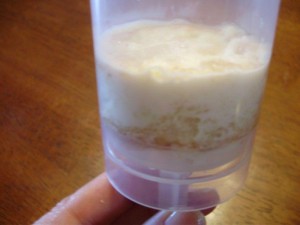 Next, pipe in the whip cream on top of the soaked cake layer and place a thin layer of fruit on top .
Repeat process until the push pop containers are full.
Garnish as you like. Either simple or with flair!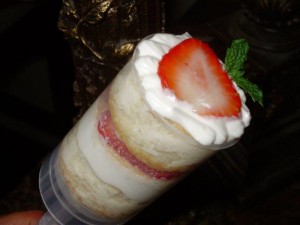 Here is a quick video on how to create the simple push up Tres leches cake using the creamer.
Tres Leches Push Pop Cake Video:
Looking for Giarraffa Co Pro Push Pop Containers? You can buy them direct at Giarraffa Co online shop at Shop.PushPopContainers.Com